I won a pair of tickers from Chuckei Jane,who the famous blogger..
Feel so excited for it!!!! Have a great night with Pixie Lott yesterday! It was the last station for Pixie Lott showcase! and she choice MALAYSIA!! LOLz....should we be proud of this?XD hahahaha.....
Love her voice so much! Honestly, I don't really know who is she...XDhahaha....until I went to youtube search for her song. Actually, all the song she sang I heard before!!!! Just didt not know who's the singer! Well, now I knew it!!
HERE!!! EleColdxHot!!!!ECX!! Guest of the night!
Waiting for more than half an hour, finally we saw Pixie Lott on stage!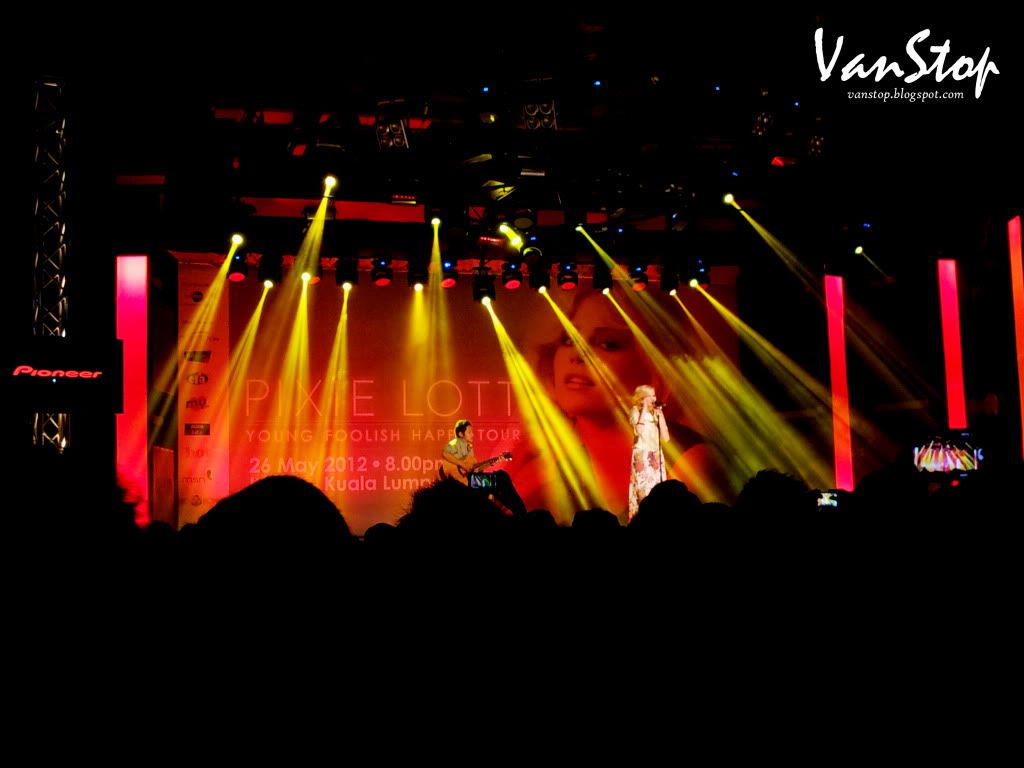 Pixie Lott is fantastic! But, it was a most lousy showcase I been went, such an unhappy experience!
I was been blocked at the outside while lining up to went into the hall, because of I bring a DSLR! WTH!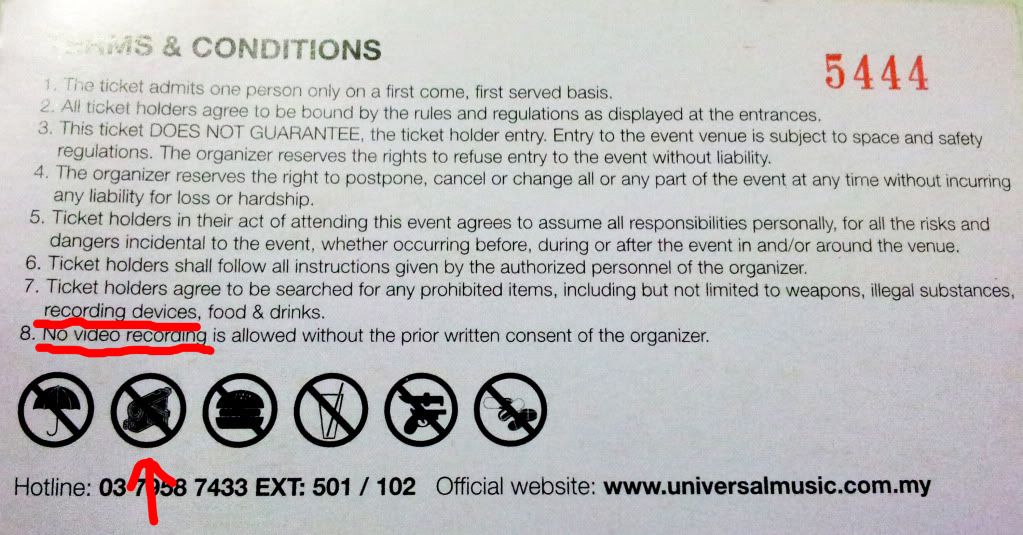 The crew said no CAM are allowed! If you were not blind, you can see the second icon which show in the picture was a

RECORDER

! If you have finish your primary school, you can understand what is

RECORDING DEVICES

! If the problem that because of I'm bring a DSLR which contain record function and being block and not allow to enter the hall, then why don't you block everyone??? I believe that everyone have a phone which contain

record function!

Or least every of them are using Nokia 3310! And everyone is using their cellphone to record the show but no action being made. Some more ask us to put back our cam into car only can enter!! What if my cam stolen? Who going to pay me back? What if people are taking public transport?

THIS WAS THE MOST FUNNIES JOKE I HAVE EVER HEARD!
Some more the crew was RUDE!! "Stand aside" using the rude face and voice!!! what means by stand aside?! We aren't no ticket and making trouble there! Can you please a

POLITE

way to ask people move aside? Really damn angry about this! WTH!!! Can the organizer employ the more QUALITY crew???? As an organizer, they should take responsibility on any mistake which made by their crew or stuff!! Filtering of crew totally FAILED! Maybe....they do not have interview section, who's know!?


And I totally cant see the stage==" it might be the problem that I too short ???=="

Doesn't have any screen projector there, till I need to take out my phone and look the show thru the phone screen! swt....




After being 3 month of organizer, I know that to control every crew and stuff is not an easier! But we do learn from every singer mistake.

There does not have problem, but only improvement!

Anyway, nice lighting and PA system! And Pixie Lott was Fantastic!!! Bigbig love to her! <3



Conclusion: Try my best to improve my english skill....TOT poor english.....


Music time!